2014 is here and it's time to crank up the Blog Challenges at Kellybell Designs again. Are you ready? We're making a few tweaks this year making it more fun to participate and easier to win. It's pretty simple, here's the 1-2-3s...

1. Read the directions and create a layout
2. Everyone who submits a layout receives a cool participation prize
3. One random layout will be chosen to win a $6.50 gift certificate to Kelly's Store
Sound simple enough? Easy peasy!
Now onto the good stuff... what's the participation prize. You know you love all the freebies that Kelly's Creative Team members whip up for you. This month's participation prize was made by CT member Lisa and Guest CT JulieP.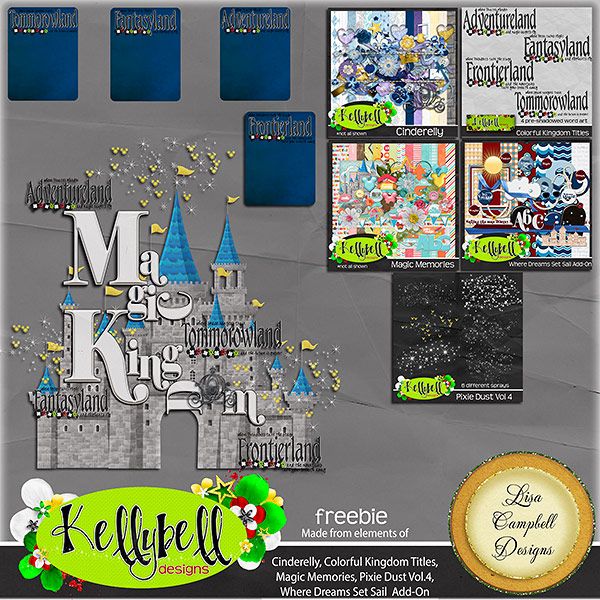 Just gorgeous, aren't they!! They only way to get them is to create a Blog Challenge layout. Can you guess the theme of this month's challenge??
Here are the rules and instructions to participation in the Monthly Blog Challenge:
Scrap a page showcasing your memories from Disney's Magic Kingdom. This can be about rides, characters, shows, dining or any other fun photos around the park.
While the instructions are written for Walt Disneyworld, please adapt them for any of the other Disney parks around the world.
You can use as many photos as you want and include as many elements and papers that you choose. We want to see your creativity sparkle!
Layouts should be made with 100% Kellybell products or freebies (you are allowed to use a template from another designer). You are welcome to submit more than 1 layout.
Post your layout into the Challenges Gallery at Kellybell Designs by midnight EST Feb 28th. Participation prizes will be sent to the email address you have listed with Kelly's gallery so make sure you're registered and logged in before posting your layout.
The random winner will be announced the first week of March. That's also when the participation prizes will be sent out.
Check your stash to see what Kellybell Designs kits you already own or take some time to browse through
Kelly's store
to see if you want to pick up a new collection to scrap with. Here are a few of Kelly's kits to use.
You can find lots of inspiration at
Kelly's Blog
to give you some ideas of what to scrap for this challenge. Here's my page for the 'Magic Kingdom' challenge.